General Election is November 4th, I need your help.
Please Donate
1) Please mail your check to "McConkey For Delegate", 207 Cypress Creek Road, Severna Park MD 21146.
2) Click to donate online:

Please Help Promote: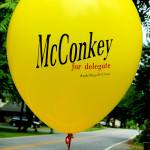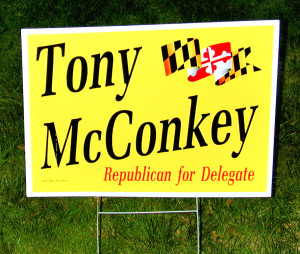 Please E-mail McConkey@Writeme.com to request a yard sign or bumper sticker, or to volunteer to help with a parade or signwave.
Endorsements
June 4, 2014 – National Federation of Independent Business makes Tony McConkey its only endorsement in Anne Arundel County
May 14, 2014 – National Rifle Association Gives McConkey The Highest Grade In District 33 Delegate Race
May 14, 2014 – Maryland Farm Bureau endorses Tony McConkey for reelection
Apr 26, 2014 – Maryland Right To Life Endorses McConkey ReElection
New Challenge In The 2014 Election – Legislative Redistricting
To allow for population growth and movement the law requires the legislative redistricts to be redrawn after the 10 year census. The new districts were approved in 2012 and will take effect this year for the first time. My District 33 changed dramatically going from a two delegate subdistrict 33A (77,000+/-) to a three delegate district (125,000+/-). With 48,000 person addition we added most of Arnold and the rest of the Broadneck, Davidsonville and parts of Riva and Harwood, and part of Severn. We lost precincts in Odenton and Gambrills.
To add to the confusion most of the state and county websites are still based on the old districts which are still in effect until the election is completed until the General election November 4, 2014. So if you go to a website and look up you district and elected representatives you a likely to get an answer based on the old district that has nothing to do with the 2014 elections. To help I have attached the new District 33 map.
Thank you for your interest in the Tony McConkey reelection campaign, click here for more 2014 Maryland election news