The Earleigh Heights Carnival is held at the Earleigh Heights Volunteer Fire Company at the corner of Ritchie Highway and Magothy Bridge Road in Severna Park
Click Here For Carnival Flyer And Discount Coupon
The Earleigh Heights Carnival rolls into Severna Park July 9th, and is open daily from 6:00pm-11:00pm through July 18th, CLOSED Sunday July 12th. The carnival features a variety of games and rides for all ages and thrill levels. For young children, there will again be cars, helicopters, dragons and bears available to ride. On the other hand, thrill-seekers can anticipate all of their beloved fast-paced, high-in-the-sky rides to be back.
Of course, the Earleigh Heights Carnival just wouldn't be the same without its offering of delicious fare. Fried Oreos, corn dogs, crab cakes, Italian sausages, funnel cakes and ice-cold lemonade will all be available this year.
The popular Earleigh Heights Carnival has been a large part of the fundraising efforts for the Earleigh Heights Volunteer Fire Company for the past 33 years. Although the company hosts a variety of other fundraising activities throughout the year – bingo games, bull roasts, shrimp roasts and pit beef stands – the carnival typically attracts the largest crowd.
The company handles thousands of fire and ambulance calls every year, and the carnival is an opportunity for the hundreds of Earleigh Heights Volunteer Fire Company volunteers to interact with the community in a more positive and fun atmosphere. Volunteers and auxiliary members can be found manning almost all of the food and gaming booths under the tents throughout the carnival. Be sure to stop by and say thanks for their service in the community.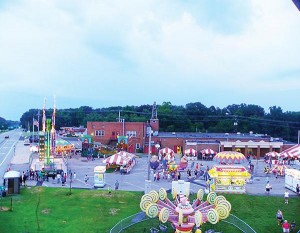 For more information on the Earleigh Heights Volunteer Fire Company and the annual carnival, call 410-647-3119.
Earleigh Heights Volunteer Fire Company
161 Ritchie Hwy, Severna Park, MD 21146
The Earleigh Heights Volunteer Fire Company (Station 12) serves the Greater Severna Park area and all of Anne Arundel County.
For information on other Maryland events