Every summer since 1908, The Big Glen Burnie Carnival has provided good food, fun games and thrilling rides for everyone in the family
Jul 31, 2015 – The Big Glen Burnie Carnival Continues To Be A Family Affair – Cap
Run by community volunteers, the Big Glen Burnie Carnival operates in a clean, orderly manner at affordable prices, providing a chance for a real family treat. The Carnival always begins on the last Friday night in July and lasts for eight nights. It is closed Sunday night. This year's dates and times are:
Friday, July 31, 2015 through Saturday, August 8, 2015, Monday through Thursday from 6:30 – 10:30 PM, Fridays and Saturdays 6:30 – 11:00 PM (Closed on Sunday)
What You Will Find At The Big Glen Burnie Carnival
KIDDIE RIDES – Speedway, Helicopter, Junglemania, Roadster, Peter Paul Dragons, Dragon Wagon, Merry Go Round, Tea Cups, Moon Bounce –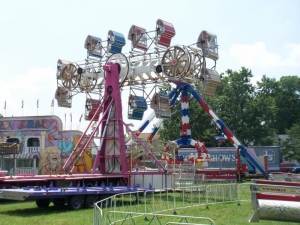 require 1 ticket.
MID LEVEL RIDES – Hip Hop, Bear Affair, Lollipop Swings, Slide – require 2 tickets.
MAJOR RIDES – Street Fighter, Mardi Gras, Round Up, Bumper Cars, Scrambler, Zipper, Samauri, Ferris Wheel, UFO,Tilt-A-Whirl – require 3 tickets
Prices
There is no admission fee to enter the carnival grounds and visit the vendors and watch the many attractions.
Individual ticket price is $1.25 or package prices are:
30 Tickets @ $33.00 (1.10 per ticket) – a savings of $4.50 (12% discount). 50 Tickets @ $50.00 (1.00 per ticket) – a savings of $12.50 (20% discount).
Ride All Night Wristbands will be available Monday through Thursday from 630pm until 930pm. There are no refunds or exchanges for any reason – including weather. The Big Glen Burnie Carnival reserves the right to discontinue wristband sales if the forecast indicates severe weather.
Games Of Chance
Wheels of Chance A winner every time! You can win a variety of prizes, such as sports plaques and stuffed animals. Games of Chance and Skill Lots of games, such as Dime Pitch and Bingo.
Purpose
The Big Glen Burnie Carnival is sponsored by the Glen Burnie Improvement Association (GBIA). GBIA members, their families, friends, community members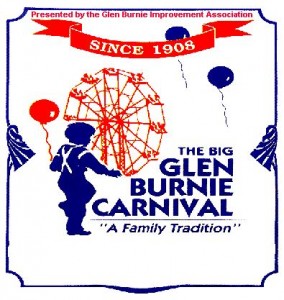 and business volunteer their time over the eight nights to raise money for use in the community. Part of the money is used to maintain the GBIA building. The building is used, at no cost, by many local non-profit organizations for activities, such as meetings and bingo.
GBIA also uses the money to make cash contributions to local non-profit groups, such as scouts, sports leagues,schools and other charities. GBIA's goal is to sponsor a wholesome event which people can enjoy while they help the community of Glen Burnie.
Click for more information on additional Maryland events
__________________________________________________
Priceless Volunteers Prize 25-cent Pay At Glen Burnie Carnival
Tradition of paying a quarter continues at Glen Burnie Carnival
"I get a quarter every night I work. Big pay." — Jack Czarnecki at the French fry booth. Years ago, volunteers got 25 cents each night for a meal during the event. Now, the quarter is a badge of honor.
By KATE YOON kyoon@capgaznews.com
In the early days of the Big Glen Burnie Carnival, 25 cents could maybe buy you coffee and a slice of pie.
When the county's oldest community-run carnival started in 1908, volunteers would come right after work to run the dance contests, game booths and food stands, with no time to eat. Glen Burnie Improvement Association leaders decided to pay them all one quarter each night to buy food.
"I'm not sure what the menu was back then," GBIA member Candy Fontz said. "I just know you got a piece of pie."
A single quarter can't get you much at the carnival today, but the tradition still stands.
"It's a way to acknowledge how (the carnival) was founded," Fontz said. "We felt it was important to keep the tradition alive."
For several of the carnival's approximately 1,000 volunteers, their families have been involved in the carnival for generations. Most volunteers have lost track of how long they've helped out.
Jack Czarnecki, 77, has been getting quarters each night each year for more than a decade.
"I don't count over a decade," he said jokingly while taking money from customers at the french fry stand. "I get a quarter every night I work. Big pay."
Czarnecki's quarters usually go toward pit beef or fries, he said.
"I don't play games at all."
Fontz said the GBIA treasurer went from stand to stand to hand the quarters out to volunteers. This year, each booth's designated chairman can get the quarters from a central location when they're not busy.
"It's a disappointment now that I've got to go down and get 'em," said John Moore, working his 23rd year at the Glen Burnie Carnival. "I have so many people working it, I don't know if I can carry them all back up the steps!"
Moore, 66, always buys $5 worth of raffle tickets for the new car the GBIA gives away each year.
"And I haven't won yet in 35 years," Moore said. "I'm not going to give up. It all goes to a good cause, so I don't mind."
Not everyone cares or even knows that this tradition exists, Fontz said. Charlie Hildebrand has volunteered for 17 years, but has never received any quarters.
"That's news to me!" he said.
He joked that the reason he never got any quarters might be because he'd already eaten pretzels before the carnival.
Even 1-year-old Jayden Pringle got a quarter each night last year for helping at the Crazy Ball stand. His grandmother, Dawn Pringle, said her husband, two daughters and son all put their quarters in Jayden's blue piggy bank from the carnival, too.
Many people expect the quarters, not to be 25 cents richer, but because they value community traditions, Fontz said.
"As a person of this generation, I may not have understood it, but it felt like a way to connect us to past generations," Alice Newton said while running the Pop-Em In game.
Newton has been volunteering at the carnival for about nine years. "It's pretty addicting, we all become 'carnies.'"
"I have never spent my quarter on anything. Never," Newton said.
She said she gives her quarters back to the GBIA each night each year because the organization helps the community. The carnival is the civic group's only fundraiser.
"When I was working in the booth, all the folks would throw their quarters in one jar," said GBIA member Chuck Kiessling, who used to help at the fruit stand. "We'd always have a pool party somewhere and it would go for pizza."
Each volunteer makes their own tradition, Kiessling said. "Some people just take the quarter, and every other night you get a Coke."
Every year Fontz spends hers. "It goes back toward a pit beef sandwich or a game. My two guilty pleasures," she said.
Fontz said though they can't buy much, for some, these quarters are very dear to their hearts.
"We have volunteers who've been there for 50 years and they have 50 years' worth of quarters they've set aside because they were quarters from the carnival."
Profits from the carnival are donated to community organizations and help pay for capital improvements, Kiessling said.
"It's a lot of work, but we have over 1,000 volunteers. We greatly greatly appreciate them," Kiessling said. "If we had to pay the number of people, even minimum wage, (we wouldn't be) here even."