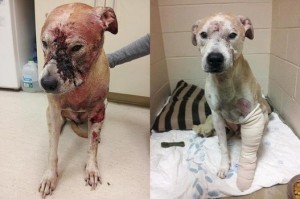 Bill Hearing February 20th, 2014 @ 1PM in the House Judiciary Committee
House Bill 373 would create an Animal Abuse Registry of all individuals convicted of animal abuse. Names would be posted on a state website to warn pet stores, animal breeders and rescue organizations to prevent the adoption of animals by known abusers.
If you feel strongly about the need for this legislation please consider lending your support by testifying in the House of Delegates Judiciary Committee that will consider this matter during bill hearings Thursday, February 20, 2014 starting at 1:00 PM in the House Office Building, 6 Bladen Street Room #101.
Your testimony in person would be strongest, but if you are unable to attend please consider calling and E-mailing members of the Committee. If you wish to send me McConkey@Writeme.com written testimony. I would be happy to distribute it for you to the whole committee.
The two dogs pictured above were found in Anne Arundel County and were dogs that were adopted or stolen to be used as "bait dogs" to train other dogs to be fighters for dog fighting. After being mauled they were abandoned for dead but were nursed back to health by caring volunteers.
In 2012 we were able to strengthen penalties for dog fighting and dog baiting and now we would like to make it harder for individuals to acquire more animals for dog fighting and other tortures. Please support HB 373.