Oct 13, 2014 – Manufacturing Growth Hurt By Marylands Poor Business Climate – Rec
Sep 12, 2014 – Feedback On Maryland Business Climate Not Flattering – Biz
Sep 3, 2014 – Maryland Building Industry Association Forms To Improve Business Climate – Rec
Jun 30, 2014 – Small Business Gives State C- For Business Friendliness – RedMD
May 27, 2014 – Panel Hears Complaints About The Maryland Business Climate – Rec
Apr 11, 2014 – Annapolis Recognizing The Need To Strengthen Business Climate – Cntr
Oct 28, 2013 – Maryland Drops To 18th In Forbe's Business Ranking, VA #1 – WYPR
Oct 9, 2013 – Maryland 41st On Tax Foundation List Of State Tax Climates For Bus – Sun
Sep 10, 2013 – Comptroller Concerned About Maryland Business Climate – TimesNews
Aug 30, 2013 – New Book On How High Taxes Have Made Thousands Flee MD – Gazette
Jul 12, 2013 – O'Malley & Dems Giving Maryland The Business – Examiner
Jul 9, 2013 – USA Today Ranks Maryland The 40th Top State For Business
Jun 12, 2013 – Gov O'Malley Rings Up $9.5B In New Taxes – Wash Exam
May 22, 2013 – High Taxes Real Cause Of Maryland Job Losses – Wash Exam
May 9, 2013 – Business Leaders Say MD Needs To Be More Competitve On Taxes – Rptr
May 8, 2013 – 40 O'Malley Tax Hikes Take $20B By 2018 – Chg MD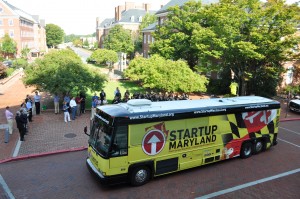 Feb 24, 2013 – Maryland Businesses Hoping For More Influence In Annapolis – Balt Sun
Feb 22, 2013 – Group Rallies To Change Maryland Business Climate – MD Reporter
Feb 20, 2013 – Stick To Facts In Gauging Competitiveness – Balt Sun
How does the Maryland business climate fare in the latest round of national rankings of the best states for business?
By Donald C. Fry, Greater Baltimore Committee published in Center Maryland
Our state ranks from 5th to 41st on major business climate lists published in 2012 or 2013 that were recently reviewed by the Greater Baltimore Committee. Of seven major business climate reports examined by the GBC, Maryland ranked in the top 25 on three lists and received rankings below 30th on four lists.
That's what the GBC reported to the new House Business Climate Workgroup, which held its first meeting on February 15.
The Maryland business climate fifth-place ranking came on the 2012 New Economy Index, published recently by the Washington, D.C.-based Information Technology and Innovation Foundation. Maryland ranked 16th and 23rd on lists published respectively by Forbes and Beacon Hill Institute, a research arm of Suffolk University in Boston.
Maryland's lowest rankings – 41st and 40th – came respectively from the D.C.-based Tax Foundation, and from a survey of CEOs published by Chief Executive Magazine. Our state also received business-climate rankings of 31st from CNBC and 32nd on the Small Business and Entrepreneurship Council's 2012 Business Tax Index.
Meanwhile, Site Selection Magazine did not include Maryland on its 2012 "Top States for Business Climate" rankings – a list on which our state was included as recently as two years ago.
What does all of this mean? First, it's important to note that the criteria for determining the rankings are highly subjective and vary widely. Some rankings such as the CEO survey measure perceptions, while other rankings are developed by compiling and weighing dozens of indicators ranging from technology and workforce scores to specific business tax rates.
Because of the subjective criteria among the various rankings, policy makers should not draw too much from any individual ranking. But neither should they dismiss the information to be gleaned from the reports on the rankings.
For instance, the rankings consistently reinforce the perception that Maryland is a higher-tax state, in terms of both corporate and personal income taxes. Other consistent areas of concern among the rankings include higher utility and energy costs, and comparatively high costs of doing business.
The rankings also consistently show Maryland's competitive strengths to include technology and innovation, education, and quality of workforce. Many in government feel that these significant assets alone are enough to prompt business decisions to locate or expand here.
In a perfect world, that might seem logical. But such logic dissipates quickly in the highly competitive world of economic development.
The truth is, Maryland policy-makers shouldn't focus on any particular ranking. What they can, and should, do is decide what qualities as a business location Maryland needs to cultivate in order to ensure that businesses that are already here can grow and thrive and that businesses elsewhere want to locate new operations here.
The Greater Baltimore Committee offered the eight core pillars for Maryland's business competitiveness, from its "Gaining a Competitive Edge" report, for the Business Climate Workgroup to consider as a starting point for its work. The GBC pillars were compiled from a year-long series of focus groups comprised of economic development experts – including the all of the state's secretaries of the Department of Business and Economic Development over the past 20 years – and business CEOs from across Maryland.
Briefly, the core pillars are: government that partners with business, a highly-educated workforce that meets business needs, regulatory policies that are streamlined, stable and predictable; a fair and competitive tax structure, competitive costs of doing business, a superior and reliably-funded transportation infrastructure, strategic state investments in business growth, and business marketing that is aggressive, long-term and well-funded.
The ultimate mission of government leaders and policy makers in Maryland is not to become obsessed with how much attention that we place on any particular national survey. It's to ensure that solid strategic policies are in place – whether based on the GBC's core pillars or some other bedrock economic principles – to generate economic growth, jobs, and a continuing high quality of life.
If we do that, Maryland's rankings will take care of themselves.
Donald C. Fry is president and CEO of the Greater Baltimore Committee. He is a regular contributor to Center Maryland.