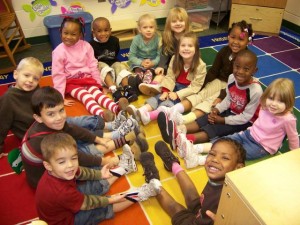 Session Begins With Talk Of Maryland Pre K Expansion
By Associated Press
ANNAPOLIS — Gov. Martin O'Malley said Wednesday his administration will take some first steps in expanding universal, full-day, prekindergarten this year in Maryland, as lawmakers convened for the 90-day legislative session.
The Democratic governor, who has made an increase in the state's minimum wage his top priority this session, also said he supports indexing the minimum wage to automatically keep pace with inflation.
The expansion of pre-K already has been a prominent issue in a busy Maryland political year playing out in the backdrop of the session. All 188 seats in the Maryland General Assembly are up for election in November, as well as statewide offices such as governor and attorney general. O'Malley, who cannot run for a third term, said both he and Lt. Gov. Anthony Brown, who is running for the Democratic nomination for governor, will outline plans on expanding pre-K.
"The lieutenant governor has crafted a way for us to begin the implementation of universal pre-K and to begin it now," O'Malley told reporters, shortly after the Legislature convened at noon.
While campaigning, Brown has proposed expanding pre-K for all 4-year-olds by 2018. His opponents for the Democratic nomination, Attorney General Doug Gansler and Del. Heather Mizeur also support pre-K expansion.
A variety of criminal justice issues are coming before Maryland lawmakers this year, and O'Malley said he does not favor decriminalizing marijuana or legalizing it for recreational purposes as Colorado and Washington state have done.
"I'm not much in favor of it, because I've seen what drug addiction has done to the people of our state and the people of our city," O'Malley, a former Baltimore mayor, said on Marc Steiner's radio program on WEAA. "And I also know that this drug and its use and its abuse can be a gateway to even more harmful behavior."
Last year, the state Senate approved a measure to decriminalize the possession of less than 10 grams marijuana, but the bill stalled in the House. Senate President Thomas V. Mike Miller, D-Calvert, said he expected the Senate to debate the measure again this year. House Speaker Michael Busch sounded open to debating decriminalization, but the speaker said he did not support legalizing marijuana for recreational use.
"I think that we would be better off with citations and mandatory treatment in that area, but I am in no way supportive of the recreational marijuana," Busch, D-Anne Arundel, said.
Maryland approved allowing medical marijuana last year, but the law requires an academic research center to administer the program. So far, none has stepped forward. O'Malley said he is open to discussion about making the implementation of medical marijuana less cumbersome in the state to help sick people.
"That's where I am on it, and I look forward to working with you and the General Assembly on this issue, because I do think that the bill that was passed represented a consensus that we needed to find a way to move forward on medical marijuana in a responsible way that doesn't promote recreational use and the gateway," O'Malley said.
Maryland Republicans, meanwhile, are pushing for tax cuts. Del. Nic Kipke of Anne Arundel is supporting a 10 percent cut in income taxes for all state residents who pay taxes. Sen. David Brinkley, R-Frederick, says small businesses need tax relief.
Miller and Busch say there may be support for lowering inheritance and estate taxes. Maryland is one of only two states with an inheritance tax and an estate tax, and Miller said lawmakers may examine ways of making Maryland more in line with neighboring states.
O'Malley, Miller and Busch also said they hope the state's highest court will revisit a ruling requiring poor defendants to have an attorney at initial bail review hearings, a change to the state's court system that could cost tens of millions of dollars.
Miller said the ruling can't take effect until a Baltimore judge signs an order to implement it. That order, Miller said, could be appealed to the Court of Appeals, whose new chief judge dissented in the court ruling requiring an attorney to be present.
"So we're hoping that they're going to get a fresh look at their wrong decision," Miller said.